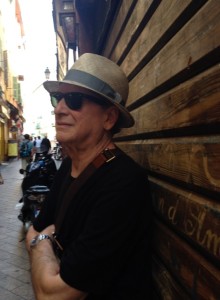 My graduate studies in sociology at the University of Wisconsin, Milwaukee (1970-1972) began my great awakening at the age of 26. In a politically radical department and heavily dominated by Marxist and neo-Marxist ideology, I miraculously fell into the influence of a special professor and Gandhi disciple, who I call Lakshmi. Beneficently taking me under his wing, I quickly went from political radicalism to spirituality.
Upon completion of my coursework, I became a disciple of Maharaj Ji and moved to rural, northeast Pennsylvania. My wife, son and I developed a small commune with two other families also following the guru. The ensuing two and a half years on "the farm" was infused with the joys of simple pleasures. We were all vegetarians, grew our own vegetables, baked our own bread, meditated daily, and enjoyed a simple, rural, spiritual life.
When my eldest son was school aged, we departed from our bucolic abode and relocated to Denver, where we enrolled Barry into a Waldorf school. Needing a real job after a four year departure from my cost accounting supervisory position at the American Can Company, I had the karmic good fortune to be hired by a nursing home visionary as his chief financial officer. I worked under his tutelage for five years.
Conflict is the midwife of change.
I formed my own nursing home management company, Piñon Management, at the end of 1979,
appropriating the venerable yin yang as its logo. I attempted to infuse this for-profit entity with
sociological Marxist dialectics and the Gandhian precept of nonviolence and respect for your
adversaries. The combination of dialectics and oneness perfectly embodied the yin yang.
The ensuing 32 years of Piñon was an amazing journey with mostly ups and a few downs. Piñon
introduced the first psycho/social model of care in Colorado in 1984, twelve years before a national person-centered care movement had its birth. From there, Piñon took over many troubled nursing homes and, through its dedication and philosophical approach, transformed them into flourishing communities of excellence.
By the early 2000′s, Piñon led the Colorado Culture Change Coalition to promote various aspects of person-centered care in the nursing homes of Colorado. Within several years, 70% of Piñon managed homes received Eden Alternative certification, among many other notable achievements, a reflection of the pioneering spirit in humanizing nursing homes.  At the end of 2011, I sold Piñon to a fellow leader who had similar, if not identical, values as Piñon and went into semi-retirement mode.
 Along the way, I fathered three wonderful sons, who have all grown up to be unique and successful in their personal endeavors. They have given me three precious grandchildren, Alba, Gael, and Preslie,who bring a consistent source of wonder to my life.