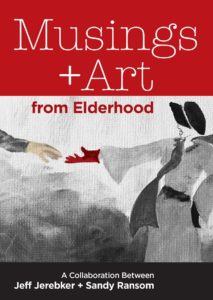 The genesis of this short piece occurred back in March of 2013 while working on a particularly introspective, and very personal chapter of my memoir Oh Mercy!.  I wrote this post thinking that old and overused aphorisms all originated to teach profound lessons in a pithy manner. Sandy's picture created for this post expresses its truth beautifully.  Enjoy this preview of Musings + Art from Elderhood:
Leading a Horse to Water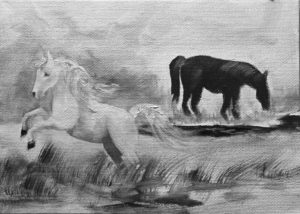 Once upon a time there were two flawed horses, saddled by their filly and colt upbringing. A cosmic wind blew them to a pristine and perfectly clear body of water. In the silence of the moment the horses heard a voice softly say "drink and ye shall be free."
One horse, the risk taker, drank and felt her burdens lifted.  She was ready to freely roam the plains in unbridled joy. The other horse was too frightened and stayed put staring at the water.
Hence the origin of the venerable proverb….