An announcement from my editor showing the cover art for my soon to be released book, Musings + Art from Elderhood, illustrated by my friend and superb artist Sandy Ransom:
I can finally show you the cover of Jeff Jerebker and Sandy Ransom's new collaboration, Musings + Art from Elderhood!  In this collection, some of Jeff's best blog musings are accompanied by Sandy's original incredible artwork created especially for the Musings.  It has been my complete pleasure to work on this book with Jeff and Sandy and we are now off to print!  Watching these two sages create together has been such joy!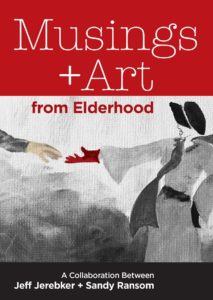 It's one thing to work in health care and deal with aspects of age-ing as a career focus.  It's another thing entirely to travel that road yourself.  Jeff, previously a pivotal leader in nursing home reform and Sandy, a RN with a researcher background, joined together to explore and combine a different side of themselves through melding their life experiences into a reflection of growing old.  Their efforts have resulted in far from normal fare on the topic!This small book is intriguing, honest, and has been a creative outlet for two
This small book is intriguing, honest, and has been a creative outlet for two age-ing friends expressing, sharing, through their eyes, mind and consciousness, their takes on entering elderhood, in an honest way that allows the reader to ponder their own age-ing and purpose.
Hint – this would make a fantastic gift for anyone who enjoys a book that can be opened at random for quick contemplation through thoughts and beauty on issues we all face!  If you are interested in reserving a copy let me know in the comments or send an email to musingsplusart@gmail.com.  If you're attending the Pioneer Network Conference at the end of the month it will also be available there, with Jeff and Sandy present for signing!