Product Description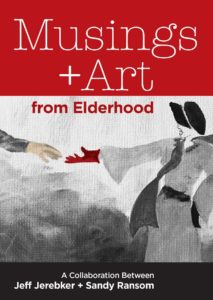 Musings + Art from Elderhood will have you remembering, reawakening and renewing what is relevant.
What's Age and Art Have to Do with Real Living? … Everything!
The sage is back. Jeff Jerebker is incredibly insightful with words that transcend feelings, hurts, concerns and shock and awe of events. Each musing delivers a new wave of reflection, revelation, and thought.
And, he's brought a friend and fellow sage—one who has a brilliant gift of the canvas. Musings + Art from Elderhood is enhanced by Sandy Ransom's thoughtful and spirited stroke of her brush woven throughout. Jeff, previously a pivotal leader in nursing home reform and Sandy, an RN with a researcher background, join together to explore and combine a different side of themselves through melding their life experiences into a reflection of growing old.
Jeff's words and Sandy's art remind us that as one enters the autumn of the lifecycle, one comes face to face with the inexorable march to mortality. Jeff and Sandy demonstrate that the elders have the ability to pass on wisdom and venerable traditions to a younger generation. In this digital age, is anybody listening? The hope, is with the very young and the age-ing to save a dying planet and revive the potential of humanity.
This small book is intriguing, honest, and has been a creative outlet for two age-ing friends expressing, sharing, through their eyes, mind and consciousness, their takes on entering elderhood, in an honest way that allows the reader to ponder their own age-ing and purpose.