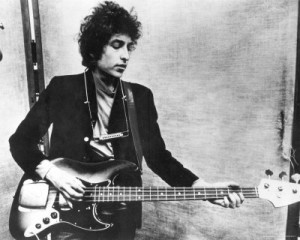 I purchased tickets to the upcoming Bob Dylan show and it seems that the old conundrum has plenty of fuel still left in his poetic tank.
Dylan is 73 and yet just this year, he has toured Japan, Eastern Europe, Australia, New Zealand, and commencing in October, will perform across the United States. Performing about 100 shows per year since 1988, no other major musician matches Dylan's endurance or productivity.
Consistently reinventing himself as if he was a chameleon, Dylan is sometimes revolutionary, at times a religious proselytizer, and often apocalyptic. With many faces, he is a broken hearted lover, angry and resentful, introspective and humble, all contained in his emotional vocals and masterful phrasing and lyrics.
Once dubbed "the voice of a generation," Dylan has become an iconoclast to his own myth, defying any expectations. Arguably the greatest song writer of modern times, in his prime he was a great and evocative singer. Jann Wenner, at the time editor of Rolling Stone magazine, reviewed Dylan's Slow Train Coming album in 1979, writing:
Bob Dylan is the greatest singer of our time. No one is better.
No one, in objective fact, is even very close.
Shows in 2014 find the toll of time and a diminished voice capacity for Bob Dylan. Fortunately, he has adapted and still provides a thrilling concert.
My girlfriend, my three sons, and others of my extended family will be at the Dylan concert on November 1st here in Denver. I hope to see others as well.